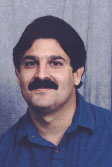 I've been making knives in my spare time since 1987. I learned knifemaking the hard way, teaching myself by trial and error. Mostly error. I ruined a lot of steel. I must have quit knifemaking 50 times, only to find myself back out in the garage the next day ruining another piece of steel.
In 1993, I did my first show in San Jose, California. At the San Jose show in 1994 I sat next to Brian Barron who convinced me to join the BAKCA club. It was great to talk to other knifemakers, compare notes and ask a lot of questions. It took my knifemaking to another level.
Also, at that show I sat next to a gentlemen named Harry Mendenhall, who got me interested in folding knives. He traced one of his knives and explained how to make one. Each month at the BAKCA meetings I would ask him questions about how to do certain things or how to fix a problem I ran into. Unfortunately, I didn't complete my first folding knife until after he passed away. I spent over one hundred hours on it, but I learned a lot. With the likes of Jay Harris, Derek Fraley and Roy Helton to field my millions of questions, my second one only took half the time. I eventually got a little quicker, but they still take a lot of time.
I have been making knives by stock removal with stainless steel up until recently. In 1999 I was fortunate enough to attend the first West Coast ABS seminar. This was the first time I had ever received any kind of hands on instruction. It was great and I was hooked on forging.
The steels I use are 1084, 5160, W1, ATS-34, 440C and S30V.